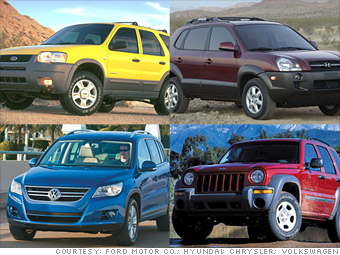 Compact sport utilities, the pint-sized crossover SUVs known as "cute utes," remain the hottest product segment in the car business, continuing an amazing ten-year run.
In 2002, customers bought 802,217 cute utes, representing a market share of just 4.8%, according to Edmunds.com, for an average price of $22,219. Over the next eight years, the number of individual models jumped to 19 from 11, and sales reached 1,139,971 in a much smaller overall market; share doubled to 9.8%. The hot upward trend continues in 2011. The market share for compact sport utilities is now 10.2%, and the average transaction price is $25,481.
The popularity of the utes stems from their smart packaging of popular SUV features, like command seating, all-wheel-drive, and lift gates, in a smaller size that is more economical.
The formula has proved scalable for a wide variety of customers. Prices start below $20,000 and go up from there. The BXW X3 sitting in my driveway has a 3.0 liter twin-turbo engine, and a full portfolio of advanced technical, safety, and luxury features, and it carries a sticker price of $52,025.
The compact SUV has come a long way from its humble beginning, as this historical gallery of nine of the most popular models shows, and continues to evolve.