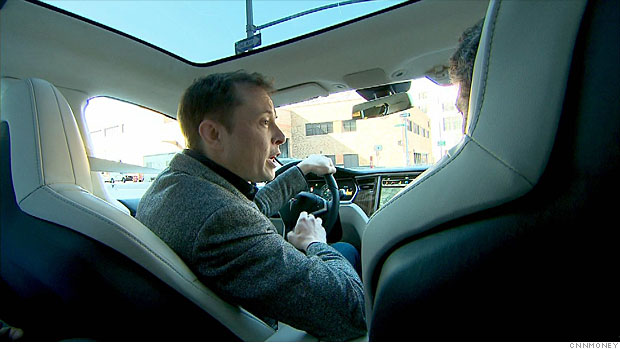 For insurance reasons -- plus, I presume, the fact that this example is one of a relative handful of prototypes -- I wasn't allowed to actually take the wheel of the Model S. But CEO Elon Musk was good enough to give me a ride through the streets of lower Manhattan.
As with all electric cars, the Model S is startlingly quiet. Not only is there no engine sound at all, but the car's sleek aerodynamic design means there's no wind noise either. The challenge for Tesla engineers was eliminating all the other annoying noises that might be revealed without other sounds to cover them up. They seem to have done their jobs well. The Model S was blissfully free of tire noise, electric motor whirring or thumping from road bumps.
Cornering is a strong point, Musk said, thanks to the battery pack. For one thing, it's low down in the car -- as low as it cold possibly be -- which creates a very low center of gravity. Second, the rigid battery pack stretching across the floor of the car makes the body very stiff, which improves cornering ability, too.
Acceleration is supposed to be strong, too, although there wasn't much chance to explore those limits during our drive. The base model will be able to go from zero to 60 miles per hour in 5.6 seconds, Tesla boasts, and a special high-performance version will get there in just 4.5 seconds while offering the same estimated driving range.