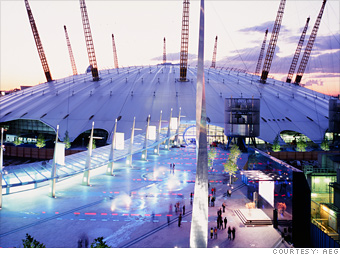 The UK-based mobile phone carrier worked with naming rights company AEG to gut what was previously known as the Millennium Dome and turn it into "the O2." AEG President of Global Partnerships Todd Goldstein says this a textbook naming rights deal that gave the venue a new, better identity immediately after it opened for the first time as the O2 in 2007.
"You want that name to become part of the vernacular," Goldstein says, and he feels like the O2 has.
Part of the reason it worked so well is because O2 got into the stadium from the ground up, says Goldstein. "We're not splashing up signs and logos, we're incorporating our brand as part of the core component," Goldstein says.
Now, O2 wants to build on the brand strength it has gained from the deal. Goldstein says the company plans to name new buildings in Hamburg and Berlin.
NEXT: The good: KFC Yum! Center
Last updated March 30 2011: 2:36 PM ET