A well loved brand name on a shiny new building can be a big hit in town, but what happens when naming rights deals -- or the companies doing the naming -- go sour?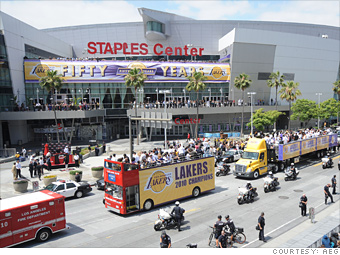 Farmers Insurance just signed the most expensive naming rights deal ever, for the stadium project that Los Angeles hopes will house a future NFL team. The insurance company will pay developer AEG $700 million over 30 years, banking on the fact that attaching its name to that building will bank it some brand equity -- not just among Los Angelenos, but also with the football league's national audience.
But naming a stadium doesn't pay off every time. When it works, it can put a previously staid brand's name on the tongues of everyone from rock concert-goers to political conventioneers. When it doesn't, it can wind up being an expensive public relations mess.
Here are some examples of stadium names that worked out great and some that flopped.
NEXT: The good: O2 Arena
Last updated March 30 2011: 2:36 PM ET