As NFL owners and players fight over professional football's amazing riches, Fortune and Sports Illustrated teamed up to crunch the numbers for an unprecedented look at the game's GFP (gross football product).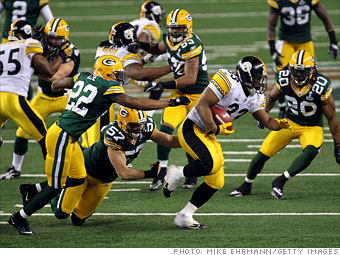 Just how lucrative is the NFL? While the league won't divulge exactly how its
$9.3 billion
pie breaks down (a sticking point in the ongoing labor talks), that figure is roughly equivalent to the GDP of Macedonia, and slightly more than eBay's 2010 revenues.
For a further sense of its vastness, consider that the GFP is not much smaller than the estimated revenues of major league baseball ($6 billion to $7 billion), the NBA ($3 billion to $4 billion), and the NHL ($1 billion) combined.
Here are some of the major drivers behind the booming football economy.
NEXT: Broadcast
Last updated March 09 2011: 12:45 PM ET