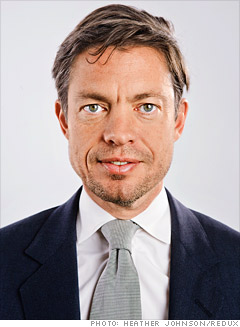 Inevitably nicknamed the "homeless billionaire" because he doesn't own a home (and, in fact, has never had a wife to insist on one), Berggruen, 49, runs two eponymous organizations. One builds his fortune; the other dispenses it.
On the business side there's Berggruen Holdings, a privately owned, highly diverse conglomerate with more than $2 billion in equity and a tendency to shuffle its properties. It once controlled FGX International, an eyewear company whose many brands include Foster Grant and Magnivision. More recently, it invested heavily in India (Keys hotels, rental cars) and took over Germany's Karstadt department stores. That purchase particularly resounds because Berggruen's parents fled Germany for France to escape the persecution of Jews.
On the civic side, there's the Nicolas Berggruen Institute, which is a political think tank that has a plan, Think Long, for reforming California's chaotic governance. Nicolas has committed $20 million to this cause. California drew his attention because he considers it both a bellwether for the entire U.S. and an ambit receptive to change.
Berggruen also collects modern and contemporary art -- "buying to give," he says. The Los Angeles County Museum gets his contemporary pieces and the Museum Berggruen of Berlin his modern works. The Berlin museum was started by Nicolas's father, Heinz Berggruen, after he returned to Germany from exile.