Zuckerberg joins Buffett charity pledge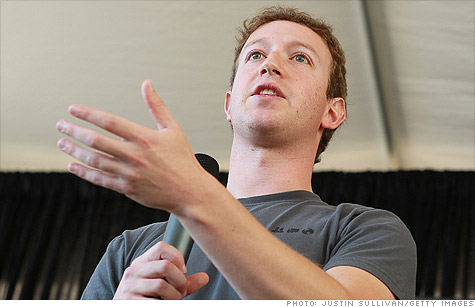 NEW YORK (CNNMoney.com) -- Facebook founder Mark Zuckerberg is among 17 wealthy American families and individuals who have joined a promise to donate the bulk of their fortunes to charity, according to a group that supports the idea.
The Giving Pledge, the group founded by billionaire investor Warren Buffett and Microsoft (MSFT, Fortune 500) founder Bill Gates and his wife, Melinda, said the additions bring the total number of wealthy American families taking the pledge to 57.
"People wait until late in their career to give back. But why wait when there is so much to be done?," Zuckerberg said in a statement issued by The Giving Pledge. "With a generation of younger folks who have thrived on the success of their companies, there is a big opportunity for many of us to give back earlier in our lifetime and see the impact of our philanthropic efforts."
Others joining The Giving Pledge in the announcement made late Wednesday include investor Carl Icahn, former junk bond investor Michael Milken, and America Online founder Steve Case and his wife, Jean.
"I'm delighted to welcome these 17 families into the Giving Pledge community," said Buffett. "In just a few short months we've made good progress. The Giving Pledge has re-energized people thinking about philanthropy and I look forward to many more conversations with families who are truly fortunate, and whose generosity can and will change lives."
They join a group that already included, besides Buffett and the Gates, Oracle (ORCL, Fortune 500) chairman Larry Ellison, David Rockefeller, CNN founder Ted Turner, New York mayor Michael Bloomberg and "Star Wars" creator George Lucas.
The Giving Pledge, in a statement online, says its participants have agreed to give away the majority of their wealth -- either during or after their lifetime -- to charities of their choice. The promise is not legally binding, according to the statement.