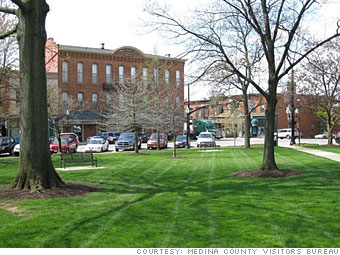 Median home price: $128,000
Median family income: $77,357


A suburb of the gritty cities of Cleveland and Akron, Medina has managed to hang onto a small town charm that hearkens back to the 19th century. There's a public square that features a gazebo and hosts events, such as concerts, craft fairs and a farmers' market on Saturdays.
The downtown business district includes some of the area's oldest employers, including a candle factory dating back five generations and a maker of bulletproof shields for army tanks. There are also new businesses, including a plastic technology business and medical care facility.
With the population of much of Northeastern Ohio on the decline -- many have left as heavy industrial companies vanished -- local home prices here have softened. However, thanks to this mix of old and new, Medina has held up better than most.
See complete data and interactive map for Medina