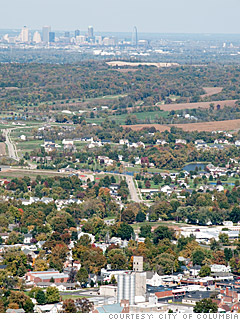 Median home price: $154,000
Median family income: $90,854


Set amid 500-foot bluffs above the Mississippi (and out of flood danger), this town was originally settled by Germans attracted to the rich farmland. Those bloodlines run through the veins of many of Columbia's residents today, but few are still farmers.
Instead, many residents commute to jobs in St. Louis about 15 minutes away. Some residents stay local, working for one of the several employers in town such as adhesive tape maker, Budnick Converting, and Hoya, an optical glass maker.
Many of the older homes in town are made with bricks fired from local clay. They were built close to the street so there would be plenty of room in back for gardens and livestock. That, said Mayor Kevin Hutchinson, helps Columbia retain "the charm that attracted many German immigrants in the 1800s."
See complete data and interactive map for Columbia