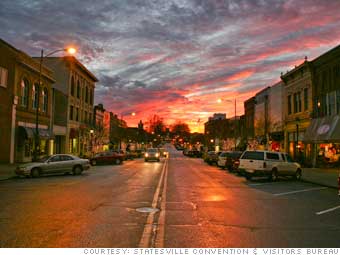 Median home price: $96,522
Median family income: $54,611


Any fan of NASCAR has probably made a pit stop in Statesville at some point. Just 20 miles from the NASCAR Hall of Fame, the area is a hotbed of racing activity, with a plethora of driving schools and NASCAR-related museums nearby.
For those who aren't as enthusiastic about stock car racing, there's hot-air ballooning. The colorful dirigibles became entrenched here in the 1960s when Firefly Balloons was founded. The company still produces about eight balloons a year and the town celebrates this heritage with an annual festival in October.
With easy access to Lake Norman and the foothills of North Carolina, there's plenty for families to do here. But it's not all play and no work. The Statesville school system produces the highest SAT test scores in the 12-county area around Charlotte.
See complete data and interactive map for Statesville