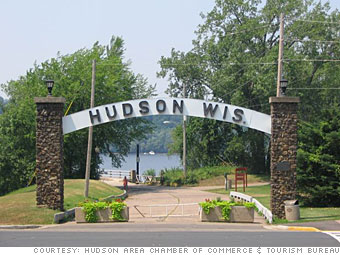 Median home price: $166,000
Median family income: $93,857


This town got its name because the bluffs reminded its first mayor of the cliffs looming over New York's famed river.
Overlooking the St. Croix River, which forms part of the border between Wisconsin and Minnesota, this Hudson has become a tourist attraction in its own right. Visitors come to see the town's Victorian-era buildings, take river cruises, enjoy concerts at the Lakefront Park and hike, bike and ski in the nearby Afton Alps. Native American history buffs also come to visit the Sioux Indian burial mounds in Birkmose Park.
Residents can find big-city attractions -- as well as well-paying jobs -- in the Minneapolis metro area, just a 30-minute drive away.
See complete data and interactive map for Hudson