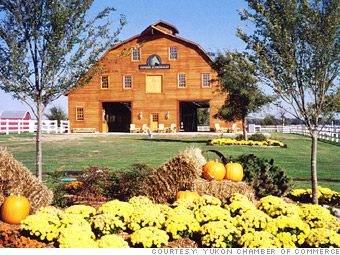 Towns include:
Yukon
Job growth (2000-2010):
27.1%
Canadian County is keeping it clean -- energy-wise. Breezy Oklahoma, with its wide-open spaces, is one of the fastest-growing users of wind power in the U.S.
Apex Energy is constructing the state's newest wind project in Canadian County: the Canadian Hills Wind Farm. It's expected to open next year, with 150 towers cranking out enough energy to power 120,000 homes.
Meanwhile, a nearby technical school, the Canadian Valley Technology Center, is expanding its wind energy training program to meet growing demand for talent. Indicating that the push for jobs in alternative energy isn't just a bunch of hot air.