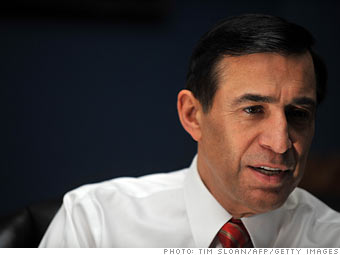 Issa is one of the richest members of Congress.
The California Republican reported assets worth between $240 million and $500 million, according to 2010 disclosure forms filed Thursday.
Issa, who is chairman of the House Oversight and Government Reform Committee, disclosed two assets worth over $50 million, including a stake in Greene Properties, a commercial real estate company in Vista, Calif.
The documents showed that Issa earned income of at least $1 million on 11 investments last year, most of which were mutual funds.
In the 1990s, Issa made millions as the chief executive and voice of the Viper car alarm system. He still has over $25 million invested in DEI Holdings, the parent company of Viper.
In addition, he has three other investments in mutual funds that are valued at between $25 million to $50 million each.