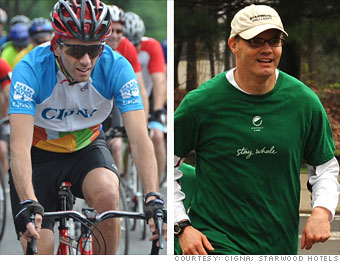 David Cordani (left) and Frits van Paasschen
David M. Cordani, Cigna
This health care CEO takes his own health seriously, having competed in more than 100 triathlons since 1992. Cordani clocked a respectable 12:16:59 at the 1995 Ironman Triathlon in Hawaii. These days, he focuses on sprint triathlons and events that raise money for health-related causes. When Cordani stays in a hotel without a gym, says a Cigna spokesman, he's known to run stairs (10 flights, 100 times) in the wee hours of the morning.
Frits van Paasschen, Starwood Hotels
It's no surprise to see a seven-year stint at Nike on van Paaschen's resume; the hotel boss is passionate about running, having competed in 12 marathons, including New York, London and Boston, and in the Pikes Peak Ascent, which covers 13.4 miles and 6,000 vertical feet. Van Paaschen began running at age 7, inspired by the track and field events at the Mexico City Olympics in 1968. And like Cigna's Cordani, he's been known to run in hotel stairwells. --J.S.
NEXT: Talking baseball
Last updated May 06 2011: 3:09 PM ET