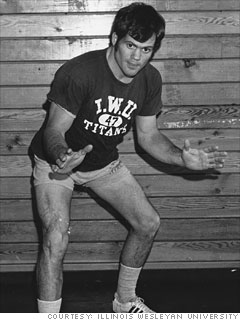 Edward B. Rust, Jr, State Farm Insurance
After four years of high school wrestling in Bloomington, Ill., Rust went on to spend several more years on the mat, first at Lawrence University and then Illinois Wesleyan ('72), where he posted a 22-8-1 career record and won two NAIA District Championships. Rust was also a two-year starting guard in football for the Titans. In 1994, Rust was named as an "Outstanding American" in the Wrestling Hall of Fame.
John Thain, CIT Group
In Antioch, Ill., across the state from Rust, John Thain spent his high school years on the wresting team. Retired Antioch High athletic trainer Norm Hahn remembers him as "an intelligent wrestler who would learn the moves and incorporate them quickly." Hahn says the "lean and lanky" Thain most likely competed in the 125-130 pound division. Although he won more matches than he lost, Thain did not go on to wrestle in college at MIT ('77).--J.S.
NEXT: Rugby
Last updated May 06 2011: 3:09 PM ET