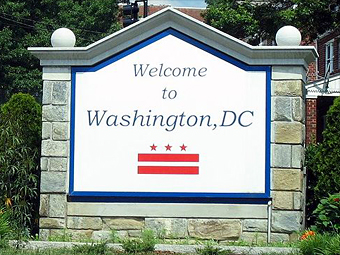 Unemployment rate : 9.6%
Year over year drop: 1.8%
It's not exactly a state and its services-based economy is unlike many parts of the country, but the District of Columbia saw big declines in its unemployment rate this past year.
Economists say the drop reflects a real decline in joblessness and not merely an influx of the long-term unemployed who have stopped looking for work. Indeed, our nation's capital fared better than the rest of the country during the recession and has recovered faster as well. Just prior to the recession in mid-2008, payrolls peaked at 710,000. By the end of 2009, they fell to 700,000 but have since recovered to close to 725,000 jobs.
Sara Kline, an economist at Moody's Analytics, says the nation's capital naturally enjoyed a federal boost in spending. But the DC job market isn't altogether rosy. Recently there's been a jump in discouraged workers and those working part-time but want full-time employment.
Overall, however, the numbers show a genuine rebound in the economy, Kline says. The economy has not only added government jobs but also private sector jobs -- mostly professional and business services tied closely to federal contracting.
NEXT: Alabama
Last updated January 12 2011: 12:37 PM ET