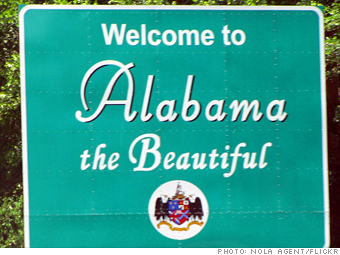 Unemployment rate : 9%
Year over year drop: 1.9%
Alabama's auto industry took a major hit during the recession, with mass layoffs helping push the unemployment rate to a peak of more than 11% in early 2010. But the industry has seen a relatively modest rebound as the global economy slowly recovers, helping reduce the state's unemployment rate by 1.9% from November 2009.
Production at the state's three major auto plants, Hyundai, Honda and Mercedes-Benz, has risen considerably. Sales for the entire Alabama-made Hyundai line were up 33% in December and 24% for the year. The Alabama-made Honda line saw a 25.5% increase. In August, Mercedes-Benz announced plans to hire more than 400 temporary employees at its Vance, Ala. auto factory.
While a 9% unemployment rate is still high, it's nevertheless a marked improvement. Besides the auto industry, a rebound in the state's services industries, particularly leisure and hospitality, have helped bring joblessness down. Alabama added 4,800 jobs to these sectors over the previous year.
Alabama is still a long way from its 2.7% unemployment rate from 2007. To get there, it will need to create more jobs outside of the auto industry.
NEXT: New Hampshire
Last updated January 12 2011: 12:37 PM ET