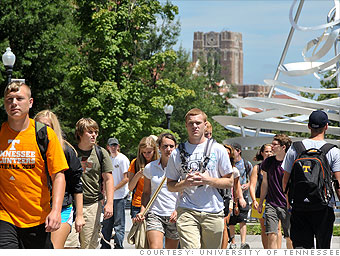 A loss of stimulus funding is hitting Tennessee's two higher education systems particularly hard.
In the University of Tennessee system, revenue from tuition fees will exceed state appropriations for the first time ever.
State funding to UT schools was cut 25% for fiscal 2012, spurring tuition hikes between 6% and 15% this fall, depending on the college.
Meanwhile, the Tennessee Board of Regents, which overseas six universities, is increasing tuition 8.8% at Tennessee State University and 11% at the University of Memphis, after its colleges lost more than $170 million in Federal Recovery Act funding.
"It pains us to raise tuition on our campuses," John Morgan, Chancellor of the Tennessee Board of Regents said in a statement. "Unfortunately, as the state's capacity to fund higher education continually erodes, students are forced to pick up more of the cost to provide a quality education."
As college costs surge, more Americans are taking out unsustainable amounts of student debt. Meet six folks overloaded with student loans.