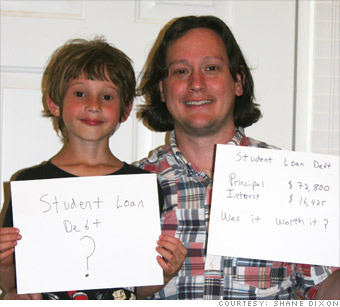 Student debt: $72,800

Degrees: Master's in public health from University of South Carolina; Bachelor's in biology from Clemson University
In my early years after high school, I wavered between trade school and college, but eventually opted for college and earned a Bachelor's in biology.
I quickly found work, but at an abysmal wage of $7.25 per hour, which did not even allow me to live on my own.
After an exasperating year at that wage, I decided to go back to school and I graduated in 2004 with a Master's in Public Health, thinking I was on the road to recovery.
During that time, I had been married, had a child, gotten divorced, and ended up raising my son on my own. I took a low paying government job in Southern Florida, and because I couldn't even make the minimum payments on my debt, I took forbearance after forbearance.
I have had a good life, but now at age 37, the weariness of carrying this financial burden frustrates me to no end.
My son is nine years old now and will want to attend college when he graduates high school. But what will I tell him? First I have to decide if the college degree is worth the debt. I hope by the time he is making his decision, I will have figured it out.