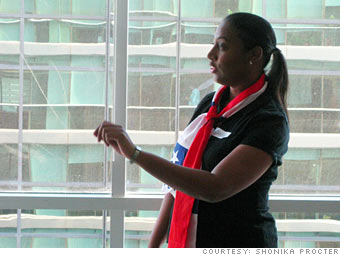 Shonika Proctor
Pirque, Chile
I am from Washington, D.C., where I was the general manager of a wireless phone store for 12 years.
Just prior to the recession, our company was sold. I was able to keep my job but was told I would have to take a pay cut. I decided it was time for a change.
I started volunteering and realized my true passion was training teen entrepreneurs. I started blogging and promoting my business, but was running out of money fast.
Then, by the most unusual circumstances, a guy from Chile reached out to me on Facebook. He was creating entrepreneurship programs for Chilean schools, funded by Chile's national government. We remained in contact, and after a year, I decided to travel down there to explore the opportunity.
I loved it and in September 2010 I moved to Chile. I didn't know Spanish or much about Latin America, but I found myself in front of some of the country's most powerful leaders, talking about building national and international entrepreneurship programs.
Today, I'm creating a microfinance e-platform to fund social innovation startups launched in rural areas and in the slums of Chile. I am also building a social innovation lab for young Latin American change-makers with the support of the U.S. and Chilean public and private sectors.