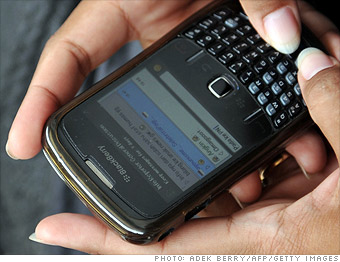 The BlackBerry maker is slashing more than 2,000 jobs -- or roughly 10% of its workforce -- in an effort to streamline its business amid dwindling demand for its smartphones.
Once the leader of North America's smartphone market, BlackBerry sales have waned recently as Apple's iPhone and Google's Android have gained market share.
Since launching in April, Research in Motion's PlayBook has also struggled to compete with the iPad and other tablets.
The Waterloo, Ontario-based company has said its job cuts are focused on "eliminating redundancies and reallocating resources to focus on areas that offer the highest growth opportunities."