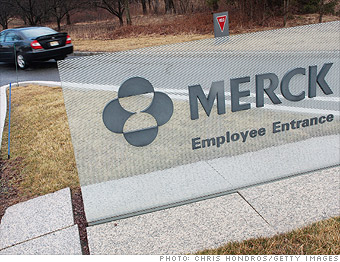 Merck has been aggressively cutting costs since it bought its rival Schering-Plough for $49.6 billion two years ago.
As part of the next phase of that merger, the pharmaceutical giant plans to take an axe to its workforce, cutting 13% -- or roughly 12,000 to 13,000 jobs -- by 2015.
"Merck is taking these difficult actions so that we can grow profitably and continue to deliver on our mission well into the future," CEO Kenneth Frazier said in an earnings release last week.
Between 35% and 40% of the job cuts will be in the United States, including administrative personnel in the company's headquarters in Whitehouse Station, N.J. as well as employees at manufacturing sites and offices that are either closing down or consolidating.
Meanwhile, Merck will continue to hire new employees to build the company's presence in emerging markets like China and Brazil.
Merck currently employs about 5,000 people -- the bulk of which are sales representatives -- in China.