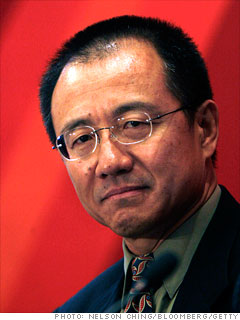 Company: China Investment Corp.
Country: China
Title: President and chief investment officer
Age: 57
Gao, China's most powerful fund manager, oversees $332 billion in assets for China's wholly state owned sovereign wealth fund, CIC. The fund was set up in 2007 with a mandate to earn a higher return for the government. Gao has been instrumental in transforming the fund from one that invested conservatively in public securities to direct private equity investments in foreign companies. In 2010, CIC spent $1.58 billion for a 15% equity interest in AES Corporation, a U.S.-based power company. This year it set up its first foreign representative office in Toronto, looking to invest in Canadian resources and infrastructure. CIC's growing global investment portfolio returned about 12% in 2009, and the fund's net income was up 80% to $41.6 billion.
--R.A.
NEXT: 8. Wang Xiaochu
Last updated April 19 2011: 5:21 AM ET