Tata: Building an auto empire in India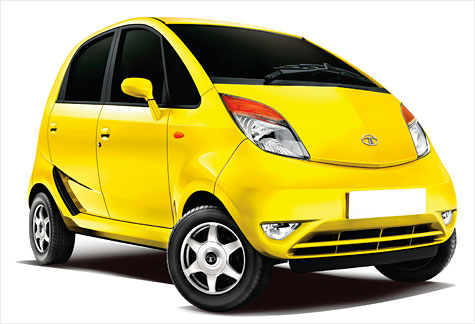 FORTUNE -- The congested city of Mumbai is an unlikely base for an auto company with global ambitions. Motor vehicles on two or three wheels far outnumber those with four, traffic uncontrolled by signals or signs is perpetually snarled, and the occasional cow finds its way into the street. Nor is the modest colonial-style office building known as Bombay House that dates from 1924 an obvious home for a corporate headquarters. The ground floor could use a coat of paint. Entrance to the cramped, crowded lobby comes only after passing through a metal detector manned by uniformed guards.
Calm breaks out on the fourth floor, however, where Ratan Tata, chairman of the Tata Group, maintains his office. White walls are hung with large, abstract paintings. A floor-to-ceiling window looks onto a balcony filled with plants. Tata, a tall, vital 73-year-old, is low-key and engaging. Educated at Cornell and Harvard, he is a worldly man; he serves on the board of Fiat, talks business with General Electric's (GE, Fortune 500) Jeff Immelt, and shares helicopter stories with fellow pilot Bob Lutz of General Motors (GM). Although India is a late arrival to the automotive age, Tata is a lifetime car enthusiast who stays up on the latest industry chatter. "I love cars," he confesses. "I was very sorry to see the Pontiac brand disappear; I was a great admirer of Pontiac."
As head of the Tata Group, which employs 395,000 people in 80 countries, Ratan Tata has wrought a remarkable transformation at the enterprise his great-grandfather founded in 1868. It encompasses 98 operating companies that, among other things, make steel and chemicals, provide information technology, own hotels, produce tea, and build cars. Tata Group's revenues, $67.4 billion for fiscal 2010, have increased 12-fold since 1991. All of which helps explain why Tata lands at the No. 2 spot on our list of Asia's most powerful executives, behind another auto magnate, Akio Toyoda.
The road to international auto stardom
The Indian car market is small -- one-sixth the size of China's -- but growing just as fast. Tata wants to use its vast potential as a platform to transform Tata Motors (TTM) from a regional powerhouse into an international automotive player. In the past 24 months he has taken three audacious steps in that direction. First, Tata unveiled the Nano, which aspires to be nothing less than a people's car for the developing world. With a beginning price of $2,900, it is designed to lure India's growing middle class away from their bicycles and motor scooters and into safe family-size, weatherproof vehicles. Nano got off to a rocky start but is gathering speed. It could open big export opportunities that Tata hopes will eventually include the U.S. and Europe.
Tata Nano: Little car, Big ambitions
Next, Tata paid Ford (F, Fortune 500) $2.3 billion in May 2008 for two famed but troubled luxury automakers, Jaguar and Land Rover. The deal didn't turn out the way Ratan Tata wanted -- "My real interest was in Land Rover; we spent a lot of time trying to separate them" -- and sales of both brands collapsed immediately afterward during the Great Recession. But spurred by growing demand in the U.S. and China, Jaguar Land Rover now contributes up to 75% of Tata Motors' operating profit, analysts say. Tata believes the deal permanently changed the mindset at Bombay House. "That lifted us into the international arena," he says. "We have ceased to look at ourselves as an Indian company."
With his twin pillars at opposite ends of the auto market, and his thriving commercial-vehicle business in the middle, Tata took his third big leap, recruiting a top executive to run his newly global company. He turned out to be Karl-Peter Forster, a veteran of BMW and General Motors. Tata met the tall, balding Forster, 56, at the Geneva auto show two years ago and persuaded him to come to Mumbai. The new job is a big stretch for Forster. He knows Jaguar Land Rover intimately from his days at BMW, but he is learning the small-car and commercial-vehicle side from scratch. "I like the complexity," he says bravely. "India has a lot of new segments that haven't been done before."
Tata is trying to structure the company as a full-line producer. At the lower end of the price ladder, he is developing a portfolio of vehicles for the Tata brand that starts with the Nano and moves up to the $35,000 Aria SUV. From that point on, he wants the Jaguar and Land Rover brands to do the work. Land Rover already has a smaller model called the Range Rover Evoque in the works, and Tata has plans for an entry-level Jag. "We won't make the same mistake Ford did and put Ford parts in a Jaguar," Tata confides.
India provides a solid base from which to grow. Some 2.18 million passenger cars were sold there last year, according to J.D. Power, an increase of more than 30% from the year before. With just two new vehicles sold annually for every 1,000 inhabitants (vs. up to 58 per 1,000 in the U.S. in some years), India's population of 1.2 billion represents an enormous untapped market. Recognizing the opportunities, foreign automakers are moving in fast and now represent seven of the 10 bestselling car brands. Sales would be growing faster were it not for the appalling condition of the road network and lack of rudimentary traffic controls.
International growth will come harder for Tata Motors. Though revenue reached $20 billion in the last fiscal year, a third comes from trucks, buses, and other commercial vehicles; the passenger-car business is tiny compared to giants like Toyota and Volkswagen. Tata has been making passenger cars for only 13 years and lacks the depth of experience of older companies as well as an established supplier network. Tata sold 298,496 passenger cars in the fiscal year ended March 31, 2011, up 25% from the year before. Lacking scale and skills, it has to compensate with its biggest advantage: lots of people eager to work who don't cost much to employ.
Tata's transportation roots
Tata got started in the transportation business 66 years ago when the Tata Group created Tata Engineering & Locomotive Co. (it wouldn't change the name to Tata Motors until 2003). Three years later it produced a steam road roller, and in 1954 it collaborated with Daimler-Benz to make commercial vehicles in India. Cranes, hydraulic excavators, and utility vehicles followed. Tata's first light commercial vehicle, a passenger van, appeared in 1986, and in 1998 the Indica, the first passenger car developed entirely by an Indian company, appeared. A five-door hatchback powered by a four-cylinder engine, it was roomy and affordable; advertising called it "more car per car."
The Indica and its successors, along with vehicles ranging from three-wheeled auto rickshaws to enormous tractor-trailer trucks, clog the mountain highway to Tata's manufacturing complex in Pune, 72 miles southeast of Mumbai. Once you are inside its gates, the cacophony and confusion of the streets outside vanish like Brigadoon -- the orderly, 930-acre factory layout would do credit to Toyota City, Japan, or Wolfsburg, Germany. A dozen large structures line both sides of a broad, tree-lined central axis. Opened in 1977, Pune builds 180,000 commercial vehicles, 100,000 utility vehicles, and 250,000 passenger cars annually. The facility is fully integrated: In a country with a still-developing supplier network, Pune makes its own engines and transmissions, stamps parts out of sheet metal, welds the parts into bodies, paints them, and then trims them with seats, tires, and a steering wheel. Tata makes its own tools, jigs, and dies, eliminating the need to outsource this costly and time-consuming operation. The pieces it stamps are so precise that Jaguar and Land Rover used Tata parts before Tata bought those brands.
Labor is Tata's big operational lever. Pune employs 2,835 permanent workers and 3,789 temporary ones in the car-making operations. It enrolls 17-year-olds in a three-year training program, housing them in dorms. Data on wages aren't disclosed, but Vikas Sehgal, a partner on Booz & Co.'s global automotive team, figures the all-in cost for a blue-collar worker at Tata is under $5 an hour, vs. $80 for a U.S. autoworker. On Pune's final trim line, seats, instrument panels, and doors are installed by men, not machines. The sole robot performs a complex operation that requires laying a ribbon of glue around the windshield and backlight and inserting them into the front and rear apertures. The extra labor means Tata needs 54 man-hours to assemble a car, three times more than Toyota (TM), but a big improvement on the 180 hours Tata took six or seven years ago.
Inexpensive labor also enables Tata to make cars like the Nano at a price that other companies can only dream about, and opens other opportunities. Forster muses about building Land Rover's Defender outside Britain and sees India as one opportunity. The original hose-it-out SUV, Land Rover's Defender has been made from basically the same design since 1948. New crash-protection regulations have rendered the beloved vehicle obsolete, but inexpensive assembly in India could make it economical again.
A few speed bumps to consider
Tata's designs are becoming more Westernized, but they still look five or 10 years behind the times, with less sophisticated shapes and colors and cruder fits. That would turn off most buyers, but residents of India don't seem to be especially design-conscious; they expect their cars to last indefinitely and to never have to replace them. Tata is trying to change their behavior, so new models like the Aria SUV are now being redesigned every six instead of every 10 years. It is trying to speed up its product development for new models. Tata's target for moving from design to production is 39 months, close to the Western standard.
Tata also has a lot to learn about foreign markets. Import duties ranging from 30% to 110% have kept foreign cars out of India, and its car tastes are specialized. Some 70% are hatchbacks; coupes and convertibles are scarce. Most are minicars and subcompacts. Air conditioning is popular, but traffic is so dense that there is no need for anti-lock brakes.
Tata executives are refreshingly candid about assessing the company's strengths and weaknesses. Vice chairman Ravi Kant, who preceded Forster as head of Tata Motors, believes that Tata's design capabilities are improving along with fit and finish, and the company better understands the performance requirements of international markets. Reliability remains a bugaboo, however, and he says, "We need to catch up faster." Timothy Leverton, another BMW alumnus, who leads R&D, says Tata is skilled at inexpensive engineering, interior packaging, and developing a high-value product like Nano at a particular price point. On the debit side, he says, "We have to improve to world standards in craftsmanship, perceived quality, and emissions."
Tata's biggest handicap may be India itself. The country is suffering from decades of deferred maintenance and lacks adequate resources for the production of electricity and supply of water. Traffic and air quality are already poor; some critics don't welcome the development of new models like the Nano. India's notorious government bureaucracy and fractious federalism slow even the most superficial changes. While China's authoritarian brand of capitalism can build a highway or a car plant seemingly overnight, India's pluralistic democracy will spend years talking before acting.
Looking ahead
On a Friday afternoon in his fourth-floor sanctuary, Ratan Tata is sanguine. He thinks Tata's low legacy costs, abundant labor and engineering resources, and willingness to try new things will boost its opportunities. He's pleased with what he discovered at Jaguar Land Rover, saying, "There was a perception of Jaguar as a has-been company, but we found it has a lot of technology." He praises the Indian government for beginning to limit protectionism and open up the economy .
Tata has said he will retire at the end of 2012; he has no immediate family, and no successor has been named. He's happy with his work to consolidate the group and build its individual businesses, and sounds reluctant to leave. "If I were 20 years younger, I would look at the second phase of consolidation and growth," he says.
With the weekend approaching, Tata is also thinking about his car collection, which includes a Ferrari California and a Maserati Quattroporte. He sets aside Sunday morning to drive them, and he complains good-naturedly about not having enough time or proper roads. "I wish there were a track or something," he muses. "You need the right kind of roads to drive them."
The Nano will not be among the cars that Tata drives for pleasure. But if it catches on, it will have a far greater impact on society than any sports car, and Tata could be remembered as the Henry Ford of India.