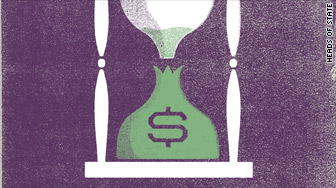 With longer workdays complicating the already Herculean task of juggling job and family, you probably don't have a minute to spare.
Granted, it's not just time that gets in the way. Many financial projects can seem overwhelming because of the sheer number of choices (which investment is best out of the thousands available? which credit card? which cable provider?).
Studies show that when people are presented with too many possibilities, they can become paralyzed, a phenomenon known in social science circles as the paradox of choice. Carnegie Mellon economist George Loewenstein, who studies consumer behavior, explains that people do nothing because they're afraid of doing the wrong thing. But as Baltimore financial planner Tim Maurer notes, "Inaction is a decision too -- and ordinarily not a good one."
Fortunately, you don't need more than a coffee break, a lunch hour or a Saturday morning to make some smart moves with your money -- moves that can cut your expenses, boost your savings, and protect your family's finances. "The key to meeting long-term goals is to break them into short-term steps that are easier to accomplish," says Loewenstein.
From the editors of Real-Simple and Money. Text by Stephanie AuWerter - Last updated November 30 2011: 6:39 PM ET