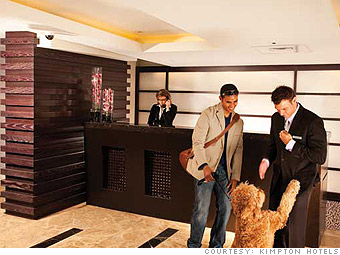 Average total pay: $131,234
For:
Hotel General Manager*
The stylish San Francisco-based hotel chain fosters an irreverent and fun-loving culture while paying managers top-dollar salaries. New employees are asked to hula-hoop at meetings, and front-desk hotel employees challenge customers to games of "Rock, Paper, Scissors" to earn free room upgrades. If a hotel or restaurant earns customer raves, the entire staff can earn gift certificates, cash, or other prizes. Managers hand out special tokens to reward employees for delivering "Kimpton Moments," for outstanding customer service. The employee with the best "moment" of the year receives a $10,000 prize.
Kimpton's health insurance plan, available to those who work 30 hours or more a week, provides dental and vision, mental health, acupuncture, and fertility treatments. Families and opposite-sex domestic partners are also covered. Employees get free meals during their shifts, along with free nights per year at the hotel where they work (and discounts at other Kimpton hotels).
NEXT: CH2M Hill
Last updated January 26 2011: 2:26 PM ET
*Most common salaried job