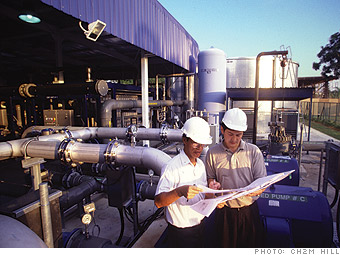 Average total pay: $129,986
For:
Engineer*
About 15,000 employees own shares in this engineering company, which develops large-scale projects like water systems, energy plants, and highways. Workers can buy stock directly or through payroll deduction, 401k, or incentive rewards.
All full- and part-time workers begin receiving benefits on their first day of work, with coverage for medical, dental, life, and disability -- not to mention legal, auto, vision, long-term care, and even pet insurance. The company kicks in a 401(k) match of 81 cents on the dollar up to 4% of salary, with 2% given regardless of employee contribution.
CH2M Hill also provides grants to employees to participate in "Engineers Without Borders," whose projects range from developing fish farms at an orphanage in Thailand to upgrading water systems for a hospital in Kenya.
NEXT: MITRE
Last updated January 26 2011: 2:26 PM ET
*Most common salaried job