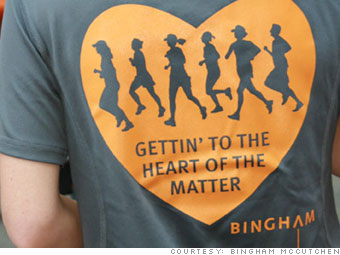 Average total pay: $219,888
For:
Associate*
This Boston-based law firm not only pays attorneys more than $200K in salaries on average, they also kick in 7.5% of salary to a pension plan for staff members, plus another 2.5% through a 401(k) match. Bingham also pays the lion's share for a health plan that covers everything from acupuncture to sex-change surgery.
Employees can rub shoulders with bigwig advocates like Thurgood Marshall Jr. and the former governors of California (Pete Wilson) and New Hampshire (Steve Merrill). Bingham lawyers last year worked on pro bono cases ranging from supporting gay marriage equality in California to supporting Haitians displaced after the earthquake.
Yet the firm also fosters a playful culture with regular ping-pong matches, poker tournaments, and "Wii and Bucket of Beer" competitions. It even pays to play well in the sandbox: Staff can earn merit bonuses for demonstrating "office citizenship" or "positive thinking and teamwork."
NEXT: Alston & Bird
Last updated January 26 2011: 2:26 PM ET
*Most common salaried job