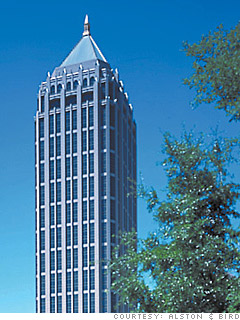 Average total pay: $182,681
For:
Associate*
Once the workplace of golfer Bobby Jones, this Atlanta-based law firm provides employees with merit bonuses up to 10% as a matter of course, and that payout has gone as high as 25% when budget goals are exceeded. Staff can top off their pay with a 7% profit-sharing bonus, and 25 cents-on-the-dollar match on their 401(k) contributions, up to 4% of salary.
A&B has outstanding family benefits, allowing primary caregivers to take up to 90 days' maternity leave and covering up to $7,000 in costs related to adoption. The firm also provides subsidized on-site childcare, granting scholarships to the children of lower-paid staff members. Women lawyers and staff help each other throughout the leave process, even swapping clothes through the firm's "Maternity Closet." Every baby born gets a romper that reads, "My Mommy [or Daddy] works at Alston & Bird."
NEXT: Perkins Coie
Last updated January 26 2011: 2:26 PM ET
*Most common salaried job