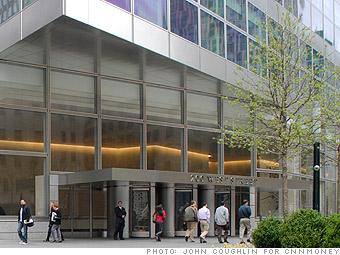 Average total pay: $160,000
For:
Other Exempt (Analysts, Program Analysts, Associates and Professional Non-Exempt)*
Everyone knows Goldman Sachs pays big salaries and jaw-dropping bonuses, but the firm's other benefits are nothing to sneeze at either. Case in point: Goldman has funded employees' retirement plans every year for more than 65 consecutive years. The current contribution is a dollar-for-dollar 401(k) match, up to 4% of salary, that maxes out at $9,800. Everyone is guaranteed at least $6,000 a year, regardless of what they put in.
Nearly 40% are lucky enough to have access to "wealth creation opportunities" that enable them to reap bounty from the firm's investments. And more than 38,550 current and former Goldman employees have received stock since the firm's IPO in 1999.
Lest anyone say they're just out for themselves, Goldman donates about half a billion to charities and community programs every year, in part through a one-to-one match of employees' donations up to $20,000 per year.
NEXT: EOG Resources
Last updated January 26 2011: 2:26 PM ET
*Most common salaried job