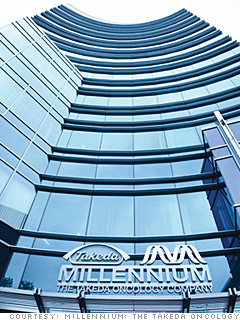 Average total pay: $166,354
For:
Sr Oncology Sales Specialist*
Employees at this Cambridge, Mass., biopharma company have a serious mission: producing therapies to tackle cancer. But they still know how to have fun, holding regular WHIP ("Why the Hell aren't we In a Pub?) events, which last year ranged from taking the whole company to the Red Sox home opener to holding a Cinco de Mayo party where the CEO discussed the company's achievements.
A wholly owned subsidiary of Japan-based Takeda Pharmaceutical Company, Millennium rewards top performing employees with phantom and restricted stock through a long-term incentive plan.
Other perks include a tuition benefit up to $10,000 a year; pet insurance subsidies; an on-site camp for employees' kids; food deliveries from a local farm; and an unlimited sick-pay policy that says, "If you are sick, stay home until you feel better." Everyone gets three weeks' vacation -- plus a week off between Christmas and New Year's.
NEXT: Goldman Sachs
Last updated January 26 2011: 2:26 PM ET
*Most common salaried job