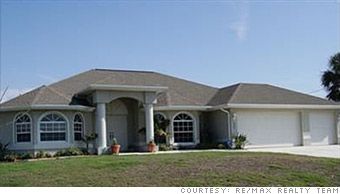 Median home price: $102,000
1-Year change through 2010: -4%
Prices fell through most of 2010 in this metro area on Florida's Gulf Coast but sellers now seem to be feeling very bullish. In March, the median asking price for area homes listed on Realtor.com was a whopping 24% higher than in March 2010, the steepest hike in the nation.
Inventory levels have bucked the national trend: The number of homes on the market fell 2.5% year-over-year, according to Move.com. That's another solid sign that the market is improving.
There could be room for prices to rebound. Values in the area have fallen more than 60% from peak.
Move.com speculated that some of the strength shown lately comes from an influx of foreign buyers looking for their place in the sun. The dollar has fallen against most major foreign currencies this year, and that makes Florida real estate a huge bargain for buyers from overseas.