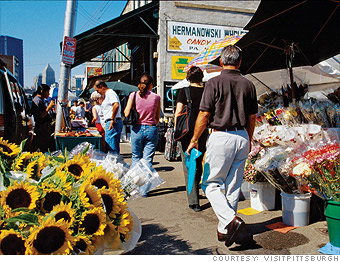 Population: 305,700
% over 50: 34%
Median home price: $129,000
Top state income tax: 3.07%
Cost of living index: 92
"The Steel City" has evolved from its rusty roots to become a cosmopolitan place that ranks among the most livable in the nation.
Old mill sites have been cleaned up and turned into shopping and technology centers. Factories and warehouses are now prime real estate for restaurants, art galleries, and luxury lofts.
While there's plenty to love about New Pittsburgh, Old Pittsburgh has much to offer thanks to the 20th-century industrialists who left a legacy in arts, architecture, sports, and education. The steel industry is largely gone, but the symphony, ballet, opera, zoo, museums, and sports teams live on. And with more than a dozen universities, art schools, and institutes in town, retirees have their pick of lifelong learning programs.
Unfortunately, Pittsburgh's air quality still leaves something to be desired, but it appears to be steadily improving.
See complete data and interactive map for Pittsburgh