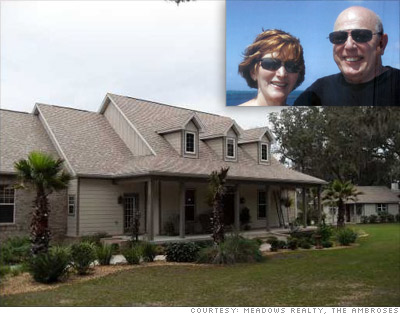 Name: Mike and Debbie Ambrose
Where they bought: Weirsdale, Fla.
Ages: 64 and 56
Price they paid: $455,000
During a vacation in central Florida in May 2008, Mike and Debbie Ambrose fell in love with a beautiful 5,000-square-foot four-bedroom home on three acres on Tiger Lake. But the $1.25 million asking price was too steep. Plus, neither of them were ready to retire quite yet.
Over the course of the next couple of years, however, the market eroded and the house failed to sell. By March 2010, the home's price was slashed to $455,000 and the Ambroses -- now closer to retiring -- pounced. They landed a 4.5% rate on their mortgage, which only sweetened the deal.
Mike plans to retire next year. Debbie, who is eight years his junior and a massage therapist, wants to keep working once they make the move from their home in Stamford, Conn. She figures even laid-back Floridians could use a massage every once in awhile.