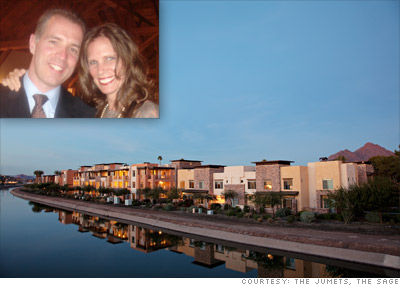 Name: Jan and Julie Jumet
Where they bought: Scottsdale, Ariz.
Ages: 45 and 45
Price they paid: $490,000
Jan and Julie Jumet started dreaming about retiring in
Scottsdale
six years ago while visiting some college friends.
At first Jan, a financial adviser who runs his own business, thought buying a retirement while they were still in their 40s didn't make good financial sense. But then the housing bubble burst and the couple struck gold.
The Jumets found a high-end, two-bedroom, two-bath condo in downtown Scottsdale within walking distance of all the best shops and restaurants.
Units like this one were intended to sell for close to $1 million, said Jan. But since the original developer went bankrupt, the Jumets paid about half that amount. They even got incentives, such as a three-year warranty on repairs and two years of homeowners' association dues. "We lucked out with this market," he said.
Over the next five years, the Jumets plan to gradually spend more time in Scottsdale, especially in winter when the temperatures at their current home in Darlington, Pa., dip well below freezing.
And since Jan can work remotely with most of his clients, he plans to start building up a client base in Arizona as well.
Until they move in full time, the couple is considering whether to rent out the place when they're not using it for their own vacations.