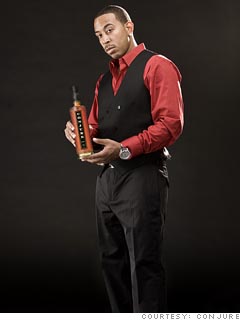 Companies: Conjure Cognac, Straits restaurant and Soul by Ludacris' headphone
The 33-year-old hip-hop artist, rapper and actor launched his Conjure line of Cognac with famed cognac house Birkedal Hartmann in 2009.
Unlike some celebs who simply lend their names to products, Chris "Ludacris" Bridges, travels frequently on behalf of the brand and its French distillery. He also personally blends the Cognac with master blender Philippe B. Tiffon.
"I've been a Cognac drinker for a long time, and the good stuff has always been expensive," said Ludacris. "I wanted Conjure to be like [Remy Martin's costly] Louis XIII, but for an affordable price so people living in urban neighborhoods could enjoy it, too."
Conjure has expanded rapidly after an initial United States rollout in two markets. It's now sold at $25 to $30 a bottle in more than 30 markets and counting.
But cognac isn't Ludacris's only venture. He also invests in real estate, co-owns Atlanta restaurant Straits and just partnered with Signeo USA to launch a 'Soul by Ludacris' headphone series.