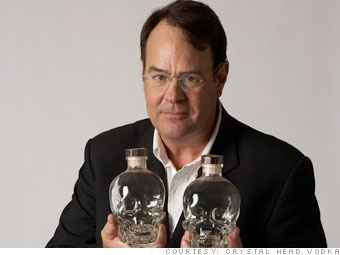 Companies: Crystal Head Vodka
The actor/comedian known for his role in the Ghostbusters movies, is now chasing spirits of a different kind.
His vision: To create a purer vodka, free of additives like sugar, glycerin or citrus oil.
So he partnered with manufacturer Newfoundland Liquor Corp. in 2008 and created Crystal Head Vodka. Made with water from a deep aquifer in Newfoundland, Canada, the vodka is filtered through Herkimer diamonds.
Newfoundland distributes the vodka, which is sold in a distinctive, clear skull-shaped bottle.
What started as a 5,000-case project using start-up capital of $600,000, has now surpassed the one-million bottle mark. Total sales exceed $55 million.
''Crystal Head Vodka was launched to restore traditional vodka making,'' said Aykroyd, 58. ''We were tired of the fake, viscous texture and perfume smell found in many vodkas.''