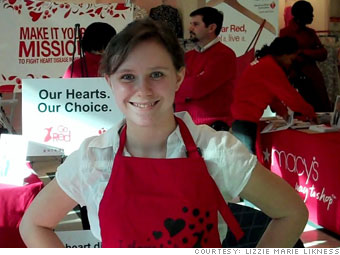 Company: Lizzie Marie Cuisine
Age: 11
Website: lizziemariecuisine.com
An aspiring chef since age 2, Lizzie Marie Likness is well on her way to becoming the next generation's Rachael Ray.
At age 6, Lizzie Marie Likness yearned to take horseback riding lessons. She wanted them so badly that she offered to help foot part of the bill.

When her parents asked where she would get the money, she replied,''I'll sell healthy homemade baked goods at the local farmer's market.'' From that moment on, Lizzie became the founder of Lizzie Marie Cuisine.
''Lizzie Marie Cuisine is unique because I teach kids how to have fun cooking healthy meals and how to live healthy,'' said Likness. "My company teaches people that it's not all about eating healthy, it's also about living healthy.''
A few short years later, word about her original recipes and ability to empower young people had spread beyond her local community. She soon began receiving invitations to demonstrate her cooking prowess alongside celebrity chefs at major live events, such as Taste of Atlanta.
She also was asked to become a spokesperson for the American Heart Association's ''Go Red For Women,'' campaign, and the Atlanta Falcons's ''First Down For Fitness Program.'' She also has appeared as a guest on the ''Rachael Ray Show.''
Today, Likness is the star of the WebMD Fit Channel's series, ''Healthy Cooking with Lizzie.'' She also just signed a branded entertainment and TV development deal with N.Y.-based production company, DBG, and global digital marketing agency, Digitas.

The mini-preneur, who hails from Georgia, expects to launch a series of healthy cooking cookbooks, packaged food products, and new digital media shows in the near future.
Her best advice: ''The greatest reward is doing what you love for the good of others.''