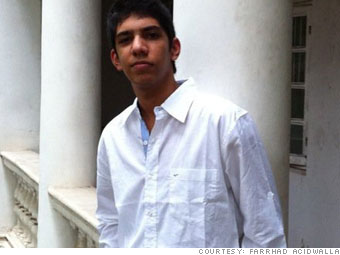 Company: Rockstah Media
Age: 17
Website: rockstahmedia.com
With $10 from his parents, Farrhad Acidwalla joined the entrepreneurial ranks at age 13, when he decided to build an online community devoted to aviation and aero-modeling. Several months later, he sold the community to a fan for $1,200.
Four years later, he put $400, from the sale of his online community, into Rockstah Media, now an international, award-winning agency focusing on branding, marketing and web development in Maharashtra, India.
''In the future, we plan to diversify and scale up our business by producing Hindi language entertainment programs,'' said Acidwalla.
Acidwalla said he keeps his 42 employees happy by offering them profit-sharing opportunities.
''Taking initiative is the most important step, so long as it is backed by hard work and dedication,'' he said.