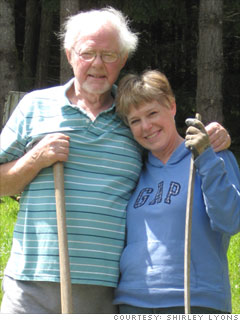 Company: Dandelions Flowers & Gifts
Headquarters: Eugene, Ore.
Shirley Lyons was only 21-years-old when she opened her flower shop, Dandelions Flowers & Gifts. Since that time, her father, Cal Husbands, now 85, has given moral support, guidance and a little elbow grease.
''He helped us remodel this little store, build some walls, and he actually built our first little refrigerator from scratch,'' said Lyons, of her storefront in 1974. ''Our first little flower store was a small, older building that required a little TLC.''
When her father was 75, he pitched in and helped deliver flowers on an especially busy Valentine's Day.
Said Lyons about her dad: ''He has always been an inspiration and a cheerleader.''
Dandelions Flowers & Gifts has grown considerably since its humble beginnings. Lyons prepared flowers for the balls and parties in Washington, D.C. when President Bush was inaugurated in 2005. And when Elton John was in town recently, Lyons designed flowers for the singer songwriter's dressing rooms and personal spaces.