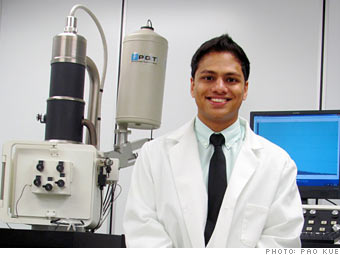 Company : Avomeen Analytical Services
Age: 23
Website: avomeen.com
You're a food manufacturer and your white product has just come out yellow. Or, you're an entrepreneurial paint maker and you want to understand what makes your competition's paint dry faster. Who you gonna call?
Neil Thanedar.
Graduating from the University of Michigan in 2010 with a double degree in business and molecular biology, Thanedar dreaded the idea of spending another five to 10 years working his way up someone else's ladder before striking out on his own.
''That's why I decided to jump right in,'' he said. Thanedar became a chemistry detective.
His Ann Arbor-based Avomeen Analytical Services has top-of-the-line instruments and scientists trained to solve myriad chemical mysteries.
The team of eight full-time employees -- which include mostly Ph.D.'s -- will solve 200 cases this year, across a range of industries. Their caseload is growing by 10% each month, and they are on target to reach $1 million in sales this year.