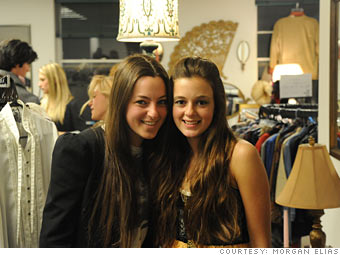 Company : The Vintage Twin
Age: 21
Website: thevintagetwin.com
Samantha Elias can't stand copycat fashion. When she walks down the street, she says she sees too many people in poorly made, threadbare T-shirts and overpriced flannels.
They're spending too much for flimsy clothes with no personality, she said.
A chronic repurposer, Elias scours thrift shops for quality and revamps clothes to match current trends.In September 2009, she was already selling her recreations out of her closet, and, with her twin sister, Morgan, launched a trunk show in their mother's Long Island basement.
With trunk show earnings and $1,000 in savings, the sisters launched The Vintage Twin (TVT) as an online boutique in March 2010.
This past January, Samantha, a University of Michigan business student, spearheaded the launch of TVT's first brick and mortar store. Within two-and-a-half months, TVT expanded to a larger sales location nearer to campus, with 10 part-time employees.
To Samantha, recycled clothing is ''just a killer idea.''