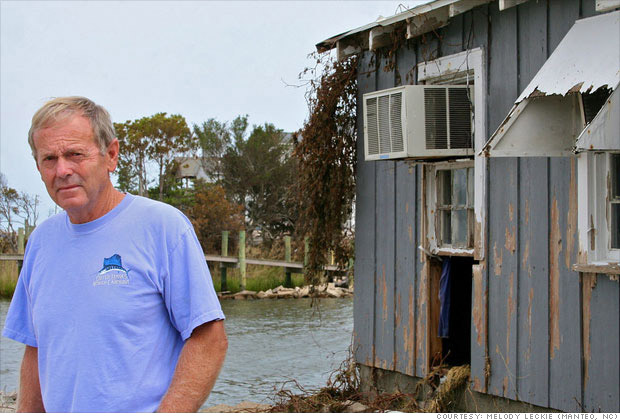 Business: Daniels Seafood & Crab House
Location: Nags Head, N.C.
Hurricane Irene destroyed Mickey Daniels' crab processing business, and he doesn't have flood insurance.
He can't afford to replace it.
Daniels Seafood & Crab House in Nags Head, N.C., is a family business. Daniels started working for his dad when he was 11 years old, and that was 53 years ago.
Irene busted the walls out of his business and left it inoperable, he said.
"My son works with me here. I don't know what he is going to do now," said Daniels. "We are kind of in a limbo."
Before being wiped out, Daniels Seafood & Crab House would cook thousands of pounds of crab, and then half a dozen women would pick out the crabmeat and put it in cups to be sold both wholesale and at a small retail shop out front.
Facing tough competition from crabbers in countries like Venezuela, Indonesia, and China, Daniels was forced to downsize a few years ago.
"We downsized, got smaller. Just got to a place where I couldn't afford it anymore," he said. "I didn't have any flood insurance."
While his home survived the storm, his mother's and sister's houses have been damaged by the storm. The destruction to his business and his family's homes has left Daniels "kind of in a daze, not knowing which way to turn or what to do."
He will see if he can get any assistance from the government to fix his shop. "I don't know what is out there right now," said Daniels.