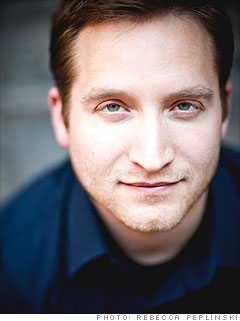 Company: SceneTap, LLC
Owner(s): Cole Harper and Marc Doering
Location: Chicago
Hiring: 25 to 50
It isn't about picking up women in a bar, insists Cole Harper. Although the co-founder of SceneTap does realize that's a common misconception about his mobile app, launched in 2010.
For any nightclub using the product, the software relays -- via Android, iPhone or by accessing the website -- the ratio of men to women, their ages, and how crowded the place is.
The data is handy for people looking to cruise bars, but it also benefits the bar owners. And that's the crux of SceneTap's business.
A camera over the door logs and time-stamps the number of people entering and exiting. Another camera analyzes facial features to establish age and gender. This data helps bar owners decide how to better market their business. Are Tuesdays slow? Make it Sports Night or post drink coupons in real time.
"It used to be that a bar owner could only discern how they were doing by the amount of cash in the register," said Harper. "This gives them much more control."
And it more than makes up for SceneTap's $300 to $600 per month cost, said Harper.
Currently in use in 53 Chicago venues, with seven more cities launching by the end of the year, the company started in Harper's living room with $150,000 borrowed from friends and family. Angel investors later contributed several million dollars. Sales are expected to be between $3 million and $5 million this year and $6 million and $12 million in 2012.
SceneTap has 15 full-time employees with 50 other consultants and commissioned salespeople. Harper plans on hiring between 40 and 80 over the next year.
Market fluctuations forced the company to get creative, said Harper, paying employees less now, but giving perks like stock equity. This is a big carrot should the company ever sell itself.
Harper, who works more than 100 hours a week, believes SceneTap will flourish. "If we are doing this well in a down economy, think what we will do when the economy starts upward," he said.