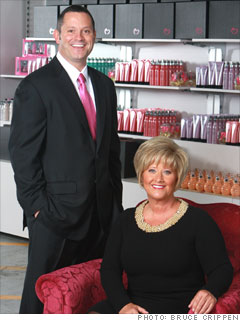 Company: Pure Romance
Owner(s): Patty Brisben and Chris Cicchinelli
Location: Loveland, Ohio
Hiring: 30
Patty Brisben was homesick from her job as a medical assistant when something on a talk show got her attention and brought a blush to her cheek: A company known as Fun Parties had consultants set up in-home parties for other women -- not for Avon products or Tupperware -- but to demonstrate vibrators and "intimacy aids."
Brisben spoke to a friend, who instead of expressing shock that there was such an industry, admitted to having attended such a party that very week. After that, Brisben made a call to Fun Parties and soon signed up as a consultant herself.
In a year, she quit her day job. Ten years later, in 1993 -- and now a single mom of four -- Brisben took $5,000 out of the bank and launched her own company, called Pure Romance.
She asked five friends to host parties and today the company has hit $120 million in retail sales. It expects a 15% to 20% increase in 2012 from domestic operations alone. Brisben's oldest child, Chris Cicchinelli, joined the company as president in 2000 and is overseeing its expansion overseas to Australia, South Africa and Latin and South America.
Headquartered in Loveland, Ohio -- a happy coincidence -- Pure Romance has 115 employees and upwards of 75,000 consultants, who buy into the company by means of "starter kits" costing $199, $399 or $799. Cicchinelli travels the country training consultants on how to use and market the products, as well as book the parties. Consultants also have access to Pure Romance University online.
The company offers 375 different products and consultants are offered a buying discount between 35% to 55%, depending on the number of "recruits" (women underneath them booking parties) they bring into the fold.
Brisben finds these tough times are having a positive effect on her business that couldn't have been predicted. "Americans can't afford to get a divorce, so they better make things right at home," she said. "Our company encourages intimacy, so it is helping couples grow stronger."
The company will be adding 25,000 more consultants in 2012, despite the worldwide economic downturn. "Ours is a recession-proof business model. Lots of women finding themselves having to work a second shift or even a second job, find that Pure Romance offers them a chance to own and operate their own business."