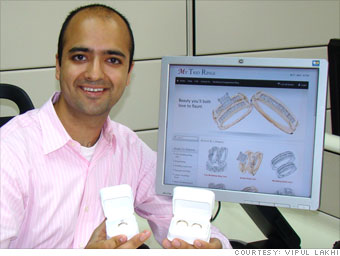 Owner: Vipul Lakhi
Location: New York, N.Y.
Vipul Lakhi's family has worked in the diamond industry for generations, so it was no surprise when his best friend sought his advice on engagement rings before proposing to his girlfriend.
For Lakhi, the experience of helping his friend and the lack of job opportunities following his 2009 graduation from Northeastern University created the perfect environment in which he could start his own company.
With $30,000 of his own startup capital, Lakhi started My Trio Rings, a company that sells low-cost wedding rings.
"An average American buys an engagement ring for just over $3,000, followed by a ladies' and men's wedding band that costs roughly $1,000 each," said Lakhi. "My Trio Rings retails the three rings sold as a set, and the prices range from $400 to $1,500."
Lakhi uses several factors to keep prices low, including efficient design (like clusters of smaller diamonds as opposed to large, expensive solitaires), economies of scale and an online-only retail store.
But, according to Lakhi, what he doesn't sacrifice is quality. And with scores of positive testimonials and a 300% year-to-year revenue growth rate, customers seem to agree.