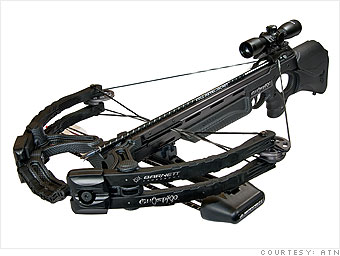 Price:
$599.99 from Barnett Crossbows
Practical use:
Zombie slaying
Pro:
Reusable ammo
Con:
It's not a gun
The only way to kill a zombie is to shoot it through the brain or burn it. Guns and flamethrowers are unavailable on Amazon, so you'll have to settle for a crossbow.
The Barnett Ghost 400 "is fully capable of taking down large game, small game, and yes, even zombies," said Barnett spokesman Major Person. "Head shots are a must for killing zombies and the Barnett is the most accurate crossbow on the market. Shoot to kill."