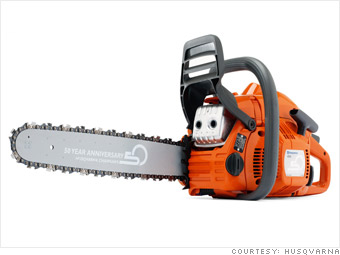 Price:
$349 from Husqvarna
Practical use:
Lop limbs off zombies
Pro:
Delivers massive trauma
Con:
High potential for collateral damage
Meet the chainsaw, the star of every hillbilly horrorshow. One list author on Amazon described the Husqvarna as "perfect if you're stuck in a corner" with the living dead.
A chainsaw was spectacularly effective at dismembering undead Nazis in the 2009 film "Dead Snow." But don't try to saw zombies from a moving vehicle. You can accidentally bisect your friends, as shown in the 2004 remake of the cult classic "Dawn of the Dead."