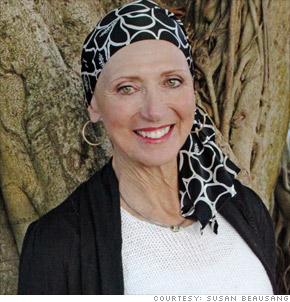 Company: The BeauBeau
Location: Sarasota, Fla.
Susan Beausang underwent a preventive double mastectomy and had both her ovaries removed in 2001 after learning that she carried the BRCA2 gene. That meant there was a high chance she would develop breast and/or ovarian cancer at some point.
Following reconstructive surgery, Beausang developed Alopecia, which caused her hair to fall out. "I was pretty upset. This was a significant event my life," she said. "Suddenly my image had become a big issue to me."
"I immediately related to the community of women who undergo chemotherapy," said Beausang. "People tell you wonderful things to help you. But they can't understand it until they experience it."
She started looking for scarves to cover her balding head. "There was nothing fashionable out there that didn't scream cancer," said Beausang, who was a fashion major in college. With $100,000 in hand, she dove into her idea of creating fashionable headwear for women experiencing hair loss.
Beausang's creation, called the "BeauBeau," which launched in 2006, is a fashionable scarf, made in the United States from fine materials like silk. The scarves come in four different sizes. With her patent design, Beausang said her scarves also snugly adhere to the head. "There's no gap between the fabric and the skin," she said.
Today, her scarves, which sell for $30 to $65, are in 300 boutiques worldwide and have grossed over $1.6 million in sales. Beausang expects a 30% to 40% pickup in sales next year. This summer she launched the 'Swimbeau,' which is a reversible swim cap specifically designed for women with hair loss.
"My motto to my women is just because you have lost your hair does not mean you have lost your sense of style," she said. "Cancer does not have to take away a women's self-esteem or dignity."