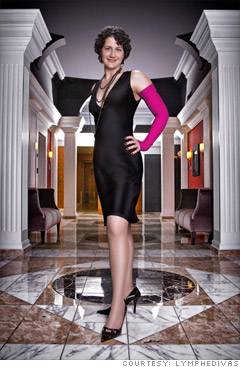 Company: LympheDIVAs
Location: Pittsfield, Mass.
The idea behind LympheDIVAs began when two women with breast cancer, Rachel Troxell and Robin Miller met in the waiting room at a doctor's office in 2006. They had been diagnosed with breast cancer.
Both women subsequently developed Lymphedema as a side effect from their treatment, which caused permanent swelling in their arms. Troxell, who was 35, was advised to wear a compression sleeve on her arm to control the swelling. But the only ones that she found were coarse, industrial-looking sleeves from medical supplies stores.
Troxell's sense of style immediately rebelled. The product made it look like she was wearing her cancer on her sleeve. And she wasn't going to wear it.
Troxell and Miller spent six months researching and developing an alternative version. They sought out lighter, breathable fabrics and most importantly, decided to make them stylish.
With funding from her family, Troxell launched LympheDIVAs in 2007. Her compression sleeves, all made in a North Carolina mill, came in colors like mocha, white and fuchsia. It wasn't long before they created a buzz in the medical community and sales began to take off. Troxell's health, however, began to deteriorate. And in January 2009, she passed away.
Her younger brother Josh Levin said her family promised to keep her vision and company alive. Today, Levin and his father run LympheDIVAs and offer the sleeve in 45 different patterns, including leopard print and a funky tattoo pattern.
LympheDIVAs has 2,000 direct customers, 1,500 clients from the medical community, and is growing internationally. It is closing in on $1 million in gross sales. "Rachel didn't have any children," said Levin. "This was her baby. We are committed to it."